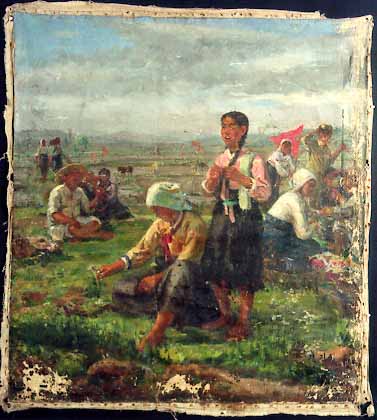 "Lunch break in the fields," 120 x 110 cm, oil on canvas, 1954
Kil Chin-sŏp (1907-1975)

A native of P'yŏngyang, Kil Chin-sŏp was the son of the Christian minister Kil Sŏn-ju (a signatory to the March First Independence Declaration of 1919). In 1927 Kil went to Japan to study Western art at the Tokyo School of Fine Arts. While still in school he held his first one-man show in 1930 in P'yŏngyang. He settled in Seoul after graduating in 1932. For the next decade, he participated in a number of national exhibitions in both Korea and Japan. Although Kil experimented with a variety of styles, he was primarily known for his Expressionist portraits and landscapes. Two years after Liberation, Kil became a professor of art at Seoul National University. He remained active in leftist art circles in South Korea, and served as chairman of the Korean Fine Arts League, in which he worked with Kim Man-hyŏng, the chief of the League's General Secretariat, and Ch'oe Chae-dŏk, director of the General Affairs Deptartment. In 1948, Kil traveled to Haeju in the North on behalf of the League to participate in the Congress of the People's Representatives of South Korea, a gathering organized by Pak Hŏn-yŏng, the leader of the Southern Workers Party (Namnodang). Kil never returned to South Korea. In 1949 he became a teacher at P'yŏngyang Art School, where he seems to have taught at least until the late 1960s. In December 1953 Kil became an elected member of the First Assembly after the Korean War. The latest known paintings by Kil are from 1969. In the 1950s, Kil, along with Kim Man-hyŏng and Mun Hak-su (1916-1988), was probably the most vocal painter in public discussions about the application of chuch'e ideology to Soviet Socialist Realism.